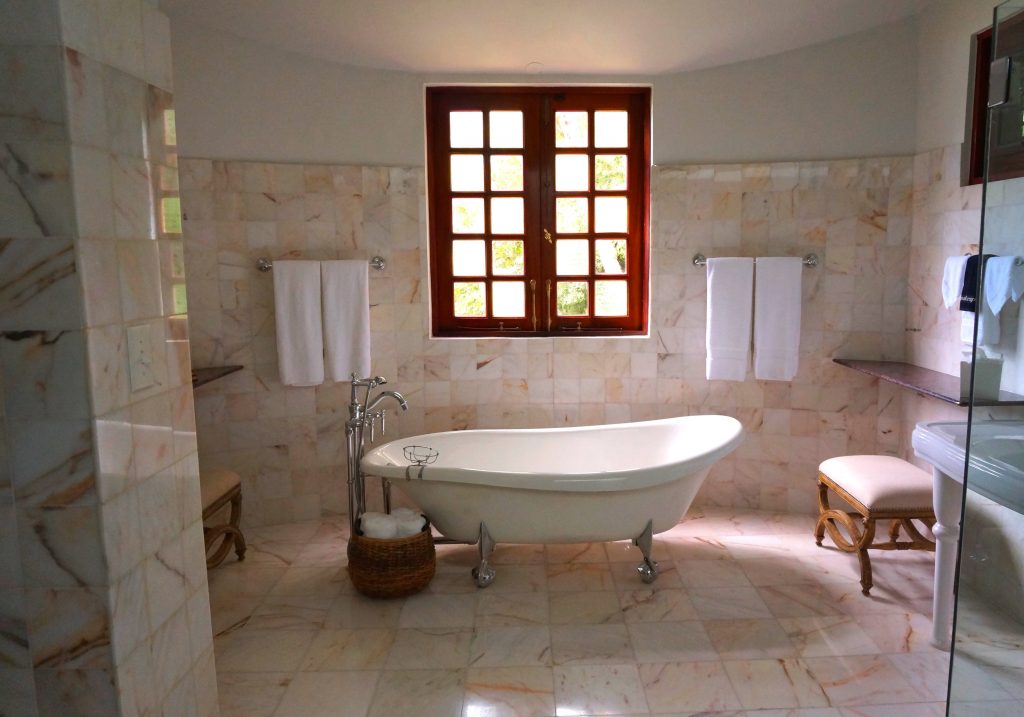 A bathroom is a most frequently used room in your house. It has to be well constructed with high-quality materials to stand up to wet conditions, humidity and frequent cleaning. Bathroom work is not a DIY job; you need a professional contractor to handle the pipes, plumbing, and toilet to avoid any odours. Are you planning to reconstruct your bathroom? Here are some things you should do.
Choose A Proper Surface
Choosing the surface of your bathroom is important. You have to choose an appropriate one to bear with wet conditions and daily/weekly cleaning with strong detergents.
How do you keep your bathroom stylish as well as water-resistant? The answer is vinyl, porcelain and ceramic tiles.
Vinyl tiles are perfect for bathroom flooring. They are popular as they have a high quality but cheap price. You can expect vinyl tiles to be safe, durable and comfortable. They can match well with every bathroom style. Moreover, the material of vinyl can be cut easily which is convenient for construction.
Ceramic and porcelain tiles are not as comfortable as vinyl ones but are more durable. It is not an easy job to install them, you have to hire a professional bathroom renovation services for help. But after their installation, ceramics will be highly water-resistant and will not get scratched.
Wood is the least suited choice for bathroom surfaces. It cannot bear with wet conditions. If you really want a wooden look, there are many porcelain and ceramic wooden tiles that really look like and provide a real wooden finish.

Spend on the Shower
How many times a week do you use a bathtub? Most people rarely use a tub. Instead of using up your space to put one in, use the space to expand your shower corner. Expand it to have at least 1.5×2 metres instead of the standard size. You will have a wider shower space and can have a door as a showerhead will not reach the corner. Installing glass panels in the shower can also illuminate the space to make it look bigger. Spend more on good showerheads. Having a stronger spray will make you feel better and you will enjoy your shower time more.

Consider Efficiency
Most showerheads, toilets, and faucets have become very water efficient nowadays. Bathroom accessory companies are more concerned by efficiency and produce accessories that consume less water. Look for a faucet that has a smaller spray to avoid excessive water usage. When you shop for bathroom supplies, ask a salesman for water-saving ones.
Have a Utility Vanity
Spare a space for a vanity to put things down. Have a cabinet under the sink if you have less space or a separate vanity in a larger space. A utility vanity can help you organise stuff. If you do not have one, you will end up putting everything all around your bathroom, which is not good to look at.

Plan the Lighting
Lighting can cause a big difference to your bathroom. It creates different moods and reflects layers of illumination around the room. Have a general ceiling light to brighten things up all throughout the room. Install extra lights on both sides of the mirror to avoid shadows being cast on your face.
Shower and toilet areas need separate lights. Suitable lights to use are canister lights and LED bulbs as they provide brighter light. If possible, have a dimmer switch to adjust the light levels for mood and efficiency.
Be Prepared for Unexpected Problems
Common bathroom problems that every homeowner will face is leaking. Leaky showers, running toilets or other hidden damages can cause the floor to become spongy. Be prepared to face these problems and contact a professional contractor.
(Visited 7 times, 1 visits today)