Voila! You've survived the bitterness of winter and now you're looking for a lively season to come. Yes, everyone is waiting for a vibrant summer!
Summer is the perfect time of year to explore new places and make lasting memories with family and friends. Whether you prefer a relaxing beach vacation or an exciting adventure, there are plenty of destinations to choose from.
If you are planning to take a vacation this summer but still have no idea where you should be, we hope this article could help you, with 10 places you should consider visiting this summer.
Here are 10 places to consider visiting this Summer:
Hawaii: Maui
Hawaii is a popular summer destination for good reason. With its stunning beaches, clear waters, and warm weather, it's the perfect place to unwind and soak up some sun. Whether you're interested in surfing, snorkelling, or just lounging on the beach, there's something for everyone. The island also has a rich culture and history, with plenty of museums, historical sites, and festivals to explore. But if you'd like to pick only one, it must be Maui.
Maui is a beautiful island in Hawaii known for its stunning beaches and lush rainforests. It's the perfect destination for those who love water activities such as snorkelling, surfing, and paddleboarding. The island is also home to several iconic landmarks such as the Road to Hana, Haleakala National Park, and the Banyan Tree Park.
Banff, Canada: Lake Louise
Banff National Park in Canada is the perfect summer destination for those who prefer a more adventurous vacation. With its breathtaking scenery and outdoor activities such as hiking, mountain biking, and kayaking, Banff offers a unique experience for those who love nature. The park also has several hot springs to relax in after exploring.
Lake Louise, especially, is a picturesque destination in the park known for its stunning turquoise waters and mountain views. You can enjoy hiking trails around the lake, canoeing, and scenic gondola rides. The area also has several hot springs and spas to relax in after a day of exploring.
Santorini, Greece: Oia
Santorini is a stunning destination known for its white-washed buildings, turquoise waters, and incredible sunsets. The island is perfect for a romantic getaway or a relaxing vacation with friends. There are plenty of beaches to explore, but if you'd like to change the mood, try visiting wineries, museums, and archaeological sites in Oia.
Oia is a beautiful village on the island, it's known for its stunning sunsets and white-washed buildings. You'll witness narrow streets, and local wineries, whilst still being able to enjoy breathtaking views of the Aegean Sea.
Bali, Indonesia: Ubud
Bali is an Indonesian island known for its stunning scenery, rich culture, and warm hospitality. There is a town called Ubid which is kind of a perfect place for a summer vacation, with its beautiful beaches, lush forests, and stunning temples. They are also known for yoga and meditation retreats, making them a great destination for those who want to relax and recharge.
Barcelona, Spain: Park Guell
Barcelona is a vibrant and exciting city that is perfect for a summer vacation. With its rich culture, stunning architecture, and world-class museums, there is always something to see and do.
One thing you should try when you are in Barcelona is visiting Park Guell.
Park Guell is a beautiful park designed by the famous architect Antoni Gaudi. The park is known for its unique architectural features, including the famous mosaic dragon fountain. You can enjoy stunning views of the city, explore the many walking trails, and take in the park's beautiful gardens and sculptures.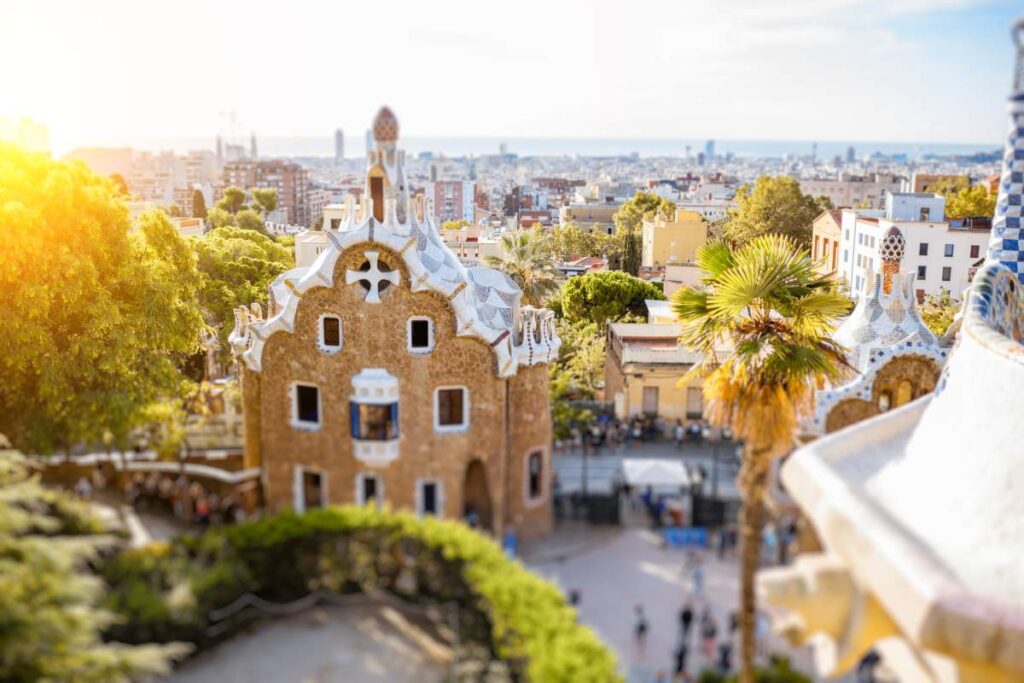 Costa Rica: Arenal Volcano National Park
Costa Rica is a tropical paradise known for its lush rainforests, wildlife, and stunning beaches. It's a great destination for adventure seekers, with activities such as zip-lining, hiking, and surfing. The country is also known for its ecotourism, with many opportunities to explore the natural beauty of the area. They also have a specific place that you should visit once in a lifetime, an active volcano.
Arenal Volcano National Park is a stunning destination known for its active volcano and hot springs. You can hike through the rainforests, explore the lava fields, and soak in the natural hot springs. The area is also home to several wildlife species, including monkeys, sloths, and toucans.
Sydney, Australia: Bondi Beach
Sydney is a bustling city known for its iconic landmarks such as the Opera House and Harbour Bridge. The city also has several beaches to enjoy, as well as world-class museums and art galleries. Sydney is also a great place to explore the beach like Bondi Beach which has a stunning coastline and great surf conditions.
Reykjavik, Iceland: Blue Lagoon
Reykjavik is a unique destination that offers stunning natural beauty and vibrant city life. You can explore the country's famous geothermal pools, the Blue Lagoon.
The Blue Lagoon is a famous geothermal spa that offers mineral-rich waters and stunning scenery. You can soak in the warm waters, enjoy a spa treatment, or explore the nearby lava fields. The area is also home to several unique attractions, including the Northern Lights and the world's first parliament.
Lake Tahoe, United States: Emerald Bay State Park
Lake Tahoe is a stunning destination located in the Sierra Nevada Mountains. It's a popular spot for hiking, mountain biking, and water sports such as kayaking and paddleboarding. The area also has a stunning destination called Emerald Bay State Park with crystal-clear waters and breathtaking views.
Tokyo, Japan: Tsukiji Fish Market
Tokyo is a bustling metropolis that offers a unique cultural experience. When we talk about Japan, everywhere is worth visiting but there is one place in particular that offers you like no other.
Tsukiji Fish Market is a famous destination with a bustling atmosphere and fresh seafood. You can explore the market's many stalls, try unique local dishes, or watch the famous tuna auction. The area is also home to several nearby attractions, including the Senso-ji Temple and Ueno Park.
Final Thought
There are so many incredible places to visit in the world, each with its own unique charm and beauty. From the lush rainforests of Costa Rica to the stunning coastline of Sydney, the geothermal spas of Iceland to the crystal-clear waters of Lake Tahoe, and the bustling atmosphere of Tokyo, there's no shortage of adventure and discovery to be had.
So what are you waiting for? Pack your bags, book your tickets, grab your camping gear and set out on an unforgettable journey to one of these incredible destinations. The world is waiting for you, and it's time to explore it!
(Visited 22 times, 1 visits today)